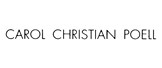 CAROL CHRISTIAN POELL (IT) at Lazzari Store
Carol Christian Poell is an Austrian designer, who after finishing his studies in fashion design in Italy , decided to create and produce in Milan. The debut took place in 1995, when he released the first of his collections, which are all characterized by a complex use of materials and particular construction techniques. Thanks to its extravagant installations and to his artistic talent, he has been able to become over the years one of the leading figures in the avant-garde fashion world. The brand CCP is excellent craftsmanship, classy extravagance and peculiarity merged together.
Showing 1-24 of 122 item(s)
Carol Christian Poell Style
Born in Linz, Austria, in 1966, he soon moved to Milan to pursue his dream of becoming a designer. In 1995, CCP presented the first menswear collection. Three years later, in 1998, he presented his first women's clothing collection, albeit with a masculine / unisex cut. The brand CCP imposes itself on the international fashion scene and not just as an emerging one but also as the product of an extravagant, eccentric, obscure, even aggressive at times and mysterious designer. CCP clothing creations are experimental and avant-garde. He is one of the few who personally carries out research on fabrics and materials and even invents new ones, such as the fabric composed of 15% glass beads because the fabric reflects the light in a unique way. His garments are always unlined, which implies the extreme precision of the always visible seams. Come to think of it, the success of CCP cannot be due solely to the extravagance and eccentricity of its creations. There is much more in a CCP garment: a certain taste, a certain style that unmistakably identifies this brand and distinguishes it from others, beyond any fashion or stylistic trend.
Carol Christian Poell shoes
CCP shoes range from sneakers to boots and men's derby. The materials used are precious leathers such as kangaroo, bison, horse and calf leather, bovine leather. The workmanship of Carol Christian Poell shoes is strictly handmade with undyed materials in Italy, as the vegetable tanning which takes place only after the artisan making of the item is finished.
Carol Christian Poell boots
Among the iconic models of CCP boots we point out the Tornado Boots available in different versions: in bison leather perforated and lined with kangaroo leather; in white, black or red horse breech with chrome-free calf lining. The distinctive feature of the CCP Tornado boots is the spiral zip closure around the shoe.
Drip Sneakers
Among the most original models of CCP shoes there are the CCP sneakers, the CCP Drip, the shoes with a rubber drip sole. There are many variants of these sneakers so special: high, low, perforated, in kangaroo leather, in rubberized kangaroo leather,... Any irregularity or stain on the shoes is not to be considered a defect but a sign of the craftsmanship of each pair of shoes CCP.
Carol Christian Poell Belt
One of the first accessories made by CCP was a belt. Even the accessories, like any CCP creation, are surprising: for example the CCP AF/0604 women's belt is a metal chain with burgundy red leather buckle, while the divergent belt in dark gray leather has a double and opposite fastening.
Carol Christian Poell In Between
The CCP In Between collection includes parka, trousers, jackets, jeans, denim jackets... all united by the complexity of the workmanship and the contrasting visible stitching, perfectly handmade.
Vest
One of the most eccentric pieces of the Carol Christian Poell production is undoubtedly the CCP Gilet in horse leather, with two side pockets, zip and two front hook closures. A leather item not for everyone.
Leather jacket
The CCP leather jackets are handmade with slowly polished horse leather, finished in garment dyed, lined in 100% cotton. Colors range from bright red to black to dark green.