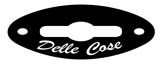 DELLE COSE (IT) at Lazzari Store
The collection Delle Cose is expressed in the production of bags and shoes with imperceptible details that enhance the taste of craftsmanship. Products that are simple, nice and practical!
Showing 1-22 of 22 item(s)
Delle Cose Bags
The Italian brand Delle Cose expresses itself through the handmade creation of leather bags in which details, often imperceptible, distinguish each product and make it unique. High artisan sensitivity and passion for experimentation guarantee the extreme quality of the workmanship, finishes and raw materials (such as horse skin) used make Delle Cose bags such accessories timeless.
Delle Cose Italian Postal Bags
The first collection of Delle Cose bags dates back to 1998. The brand's philosophy aims to recreate models of historic and timeless bags, such as the Italian postman bag, originally produced in the 1960s.