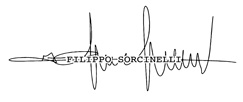 FILIPPO SORCINELLI (IT) at Lazzari Store
Filippo Sorcinelli perfumes: an atelier founded by an all-round histrionic artist whose creations are inspired by his history, his travels and his passion for art, architecture and high ecclesiastical tailoring. Filippo Sorcinelli Unum is a collection of perfumes of the spirit and not only of spirituality, open to the most unpredictable artistic contaminations. Filippo Sorcinelli LAVS is one of the perfumes of the Unum capsule and is inspired by the Lavs workshop of Sorcinelli, excellence in the production of paraments for Catholic liturgy. Extrait de Musique is instead a collection of perfumes Filippo Sarcinelli dedicated to the sounds and music of the organ, an instrument studied and practiced by Sorcinelli since childhood. Filippo Sorcinelli Nebbia is instead a line of three perfumes consecrated to the meteorological phenomenon of fog and its mystery.
Showing 1-24 of 25 item(s)
Filippo Sorcinelli Lavs
Lavs - Atelier Laboratorio Vesti Sacre is the artisan tailoring of clothes and vestments founded by Filippo Sorcinelli in 2001. A point of reference for the sector worldwide, Sorcinelli with Lavs has also dressed Benedict XVI and Pope Francis.
Filippo Sorcinelli Unum
Unum Parfums is Sorcinelli's artistic perfume laboratory. Its fragrances have a gothic, black, mystical and musical aura. Sorcinelli is in fact an all-round artist able to mix and superimpose his multiple talents in terms of painting, sculpture, organ music, fashion, artistic perfumery.
Filippo Sorcinelli Parfums
The artist from Romagna creates perfumes like Filippo Sorcinelli But Not Today, Filippo Sorcinelli Nebbia,... to communicate his spiritual self. In this introspective process, black becomes his stylistic signature. According to the famous "tailor of the popes" darkness, shadow, even the fog, express that fundamental essentiality to be crossed in order to be reborn and rediscover one's own free spirit.