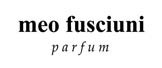 MEO FUSCIUNI PERFUME (IT) at Lazzari Store
Meo Fusciuni perfume brand was born from the definition of artistic perfumes as olfactory memory. Meo Fusciuni blends fragrances that recall lived moments of life, in a unique and exciting collection, the olfactory vision of a modern and nomad artist. Today Meo Fusciuni is an Italian indipendent brand, where planning reaches the boundaries in the research of olfactory memory. Yesterday was a nomad travelling, today is poetry, tomorrow will be mysticism.
Showing 1-15 of 15 item(s)
Meo Fusciuni biography
Meo Fusciuni founded Meo Fusciuni parfums in 2010, dedicating himself with passion and devotion to his work, the art of creating perfumes. In 2012 he met his partner Federica with whom he shares and makes this project grow. At the base of Meo Fusciuni parfums there is a continuous olfactory research but also the vision of a perfumery that is deeply emotional and narrative. Meo Fusciuni's perfumes are emotions, stories, moods, travels, thoughts. In other words: they are unique.
Meo Fusciuni Shop Online
Meo Fusciuni parfums can be found in our online shop at www.lazzariweb.it: we have chosen for you Encore du Temps, Varanasi, Little Song, Luce, Spirito, Narcotico, Notturno, L'Oblio, Odor 93, Note di viaggio 1, 2 and 3.
Meo Fusciuni journeys
Marocco, India, Laos and his city of origin Palermo were all source of ispiration for Meo Fusciuni creations. Many journeys and spiritual experiences with his partner Federica lead Meo Fusciuni to encapsulate in each fragrance a particular combination of a memory, an emotion and a sensory feeling in order to share it with the world.