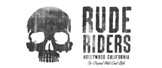 RUDE RIDERS (IT) at Lazzari Store
Rude Riders is an Italian clothing line created by and for motorcycle lovers. From the typical American vintage flavor and the European taste, comes a wide range of t-shirts, sweatshirts and scarves created entirely by hand. A distinctive feature of their lines is the patchwork technique, which involves the application of recycled fabric scraps tissues, such as scarves or bandannas, giving the creations an individual character and appealing.
Showing 1-10 of 10 item(s)
Rude Riders T-Shirts
Rude Riders t-shirts, as well as accessories and other R.R. they are handmade in Italy. Remarkable prints with skulls on T-shirts, scarves and Rude Ruders sweaters.
Rude Riders Online
At our Rude Riders online store section we offer a rich selection of clothing: Rude Riders t-shirts, Rude Riders foulards and bandanas, Rude Riders clothing for him and for her.
Rude Riders Clothing
Take a look at the latest arrivals of Rude Riders clothing in our online shop: scarves and bandanas look like silk paintings: colorful and highly detailed prints in authentic biker style. The colorful and original t-shirts are proposed with prints both on the front and on the back of the garment. The multi-colored prints of men's shirts give a touch of irony to an otherwise classic garment. Rude Riders women's clothing is an explosion of colors, determination and character.