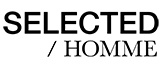 SELECTED HOMME (DK) at Lazzari Store
Selected Homme is a menswear brand founded in 1997 by the great Danish fashion group Besteseller. It is proposed as a strong and authentic brand with a high quality casual-minimalist taste. The contemporary style is enriched by details with an international flavor. Selected Homme is the materialization of good taste in the world of men's clothing, a unique interpretation of contemporary man sure of his style and what he wants: for example combining items from his own Selected Homme wardrobe with those of the new season to create coherent yet dynamic and trendy looks. It's a brand that features high quality industrial garments at cheap prices.
Showing 1-13 of 13 item(s)
Selected Homme Online
Selected Homme online can be found on www.lazzariweb.it .: 100% cotton men's shirts in classic pastel colors; men's jeans in stretch denim from the Indigo line; men's trousers in melange cotton from the Heritage collection; spring / autumn men's cotton sweaters; informal man jackets with three buttons of the Identity line; elegant men's plaid jackets; men's blue cotton blend pullover; merino wool pullover for men; Selected Homme men's t-shirt; men's coats in wool, technical fabric, padded; hooded parka and raincoats for men; bomber and leather jackets for men.
Selected Homme Leather Jacket
Selected Homme leather bomber jackets and jackets offer a classic but captivating style: black suede leather jackets with urban style details like the zipped pocket on the left shoulder; or the nail in perfect Hollywood style in soft lambskin.
Selected Homme Coats
Selected Homme coats in recycled wool blend have a minimalist cut with hidden buttons closure, or they are more classic, such as the knee-length double-breasted Selected Homme coat; Selected Homme padded coats; Selected Homme parka with padded and waterproof hood.
Selected Homme Men's T-shirt
Selected Homme basic t-shirts for men, Selected Homme men's striped t-shirts, men's printed t-shirts by Selected Homme: these are all inevitable items in the male wardrobe, highly appreciated for their design and quality of raw materials. Short-sleeved or long-sleeved t-shirts (to be worn in mid-season or under a sweater in winter), Selected Homme men's t-shirts are sustainable garments made with at least 50% organic cotton.
Selected Homme Men's Polo Shirt
The polo shirt is a kind of t-shirt able to adapt to the most diverse outfits, always keeping its casual-sporty charm intact. The poloed Homme are characterized by a zip instead of the more common opening buttons under the collar but also by the materials that compose them bio, all sustainable: 100% organic cotton or 60% cotton and 40% polyester. Beyond the composition and the fibers worked to produce them, the Selected Homme polo shirts are fresh, soft and anyway comfortable to wear, perfect for occasion of use. In short, a guarantee.