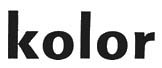 KOLOR (JP) at Lazzari Store
Born in 2004, the Japanese Junichi Abe Kolor brand is an innovative approach and the unconventional accents. Every combination is studied in detail to be bold and courageous but at the same time always discreet. mainly concentrated on textiles, construction and details, the designer Abe gives life to creations comfortable but sophisticated, with original color combinations but always carefully studied.
Showing 1-24 of 35 item(s)
Kolor Japan
Kolor is a Japanese fashion brand founded in 2004 by Junichi Abe. The debut collection is from spring/summer 2005 with women's and men's clothes. In 2012 Kolor parades for the first time in Paris with the fall/winter 2012-13 collection. For Junichi Abe Kolor creates clothes that are balanced in every detail, from the mixture of fabrics to models, to price, to inspiration.
Kolor clothing
Since the beginning, Kolor clothing has shown a marked propensity for innovation to the extent that it is considered one of the most alternative and original brands currently in circulation worldwide. Its originality often consists in creating garments with inserts of different colors and materials. However, these are not eccentric or excessive but particular and still portable. The colors are always uniform and sometimes natural like bronze, mustard and indigo. The selected precious fabrics are cut, adapted and sewn to make clothes with strong but never screaming personality