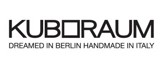 KUBORAUM (DE) at Lazzari Store
Kuboraum is a jewelry-eyewear brand dreamed in Berlin and hand made in Italy with a large design component. All pieces are realized through a complicated process which makes every piece different from the other. Any apparent imperfection is wished for surplus the value. So now select your sunglasses-mask.
Showing 1-22 of 22 item(s)
Kuboraum glasses
Kuboraum glasses do not go unnoticed. They are small architectures to wear or, if you prefer, installations to exhibit. The square shapes enhance, reveal or transform the character of the wearer. The rigorous lines of the frames emphasize facial features with irony and originality. Kuboraum glasses are pure design craftsmanship, creative masks. As demonstrated by the 2015 limited edition "Kuboraum for Julius" collection, born from the perfect union between two brands, Kuboraum and the Japanese Julius, both inspired by past and future artistic-architectural forms and canons. But what are the favorite models of Kuboraum addicted? Here are some of them:
Kuboraum C2
Kuboraum Mask C2 in olive green acetate with marbled effect with gray anti-reflective lenses. Precious and unusual vintage style, to be worn on outfits with neutral and natural colors, monochromatic or contrasting.
Kuboraum Z3
Kuboraum Z3 round in acetate and metal. Gold-colored chiseled finish. The Mask Z3 model recalls the windproof goggles of an old-time pilot. Classic, retro, sporty-chic style.
Kuboraum H22
Kuboraum Mask H22 black metal with double rectangular frame have colored but clear lenses that allow you to wear them all day and not just outdoors.
Kuboraum N3
The Kuboraum N3 with its characteristic round shape, solid, of sure impact give strength and character to both quadrangular and oval faces. For those who love to play down and don't give up on irony.
Kuboraum K10
The "sun" version of the Kuboraum K10 in cognac-colored acetate with amber lenses is of a subtle and never pretentious elegance, the only one that loves the sunlight rounded by a shape, softened by a color.
Kuboraum U8
Elongated hexagonal lenses, wide temples to cover the eye in profile, sturdy but light frame, captivating colors and finishes: the Kuboraum U8 are a play of magnetic forces in perfect, constant balance.
Kuboraum B5
Large, vintage chic sunglasses, slightly butterfly in the upper profile, with temples half high and then thin behind the ears. B5 Kuboraum are fascinating masks for charming people.
Innerraum
Kuboraum creators also design Innerraum products too: another futuristic brand of accessories. Check it here: https://www.lazzariweb.it/en/innerraum-m-442.html