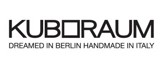 KUBORAUM (DE) at Lazzari Store
Kuboraum is a jewelry-eyewear brand dreamed in Berlin and hand made in Italy with a large design component. All pieces are realized through a complicated process which makes every piece different from the other. Any apparent imperfection is wished for surplus the value. So now select your sunglasses-mask.
Showing 1-24 of 39 item(s)
Kuboraum glasses
Kuboraum glasses don't go unnoticed. They are real architecture to wear or, if you prefer, almost installations once worn. Their square, geometric and decisive shapes enhance the character of the wearer and emphasize their facial features with irony and originality. Kuboraum glasses are pure design craftsmanship. Here are some of Kuboraum victim's favorite models:
Kuboraum X Julius Maske M6
Limited edition products, Kuboraum X Julius Maske M6 glasses are made of matte black acetate with dark anti-reflective lenses. Frame cut and lenses partially open at the top of the glasses. Non-conformist.
Kuboraum C2
In marbled green acetate with gray anti-reflective lenses. Vintage.
Kuboraum T10
Kuboraum T10 glasses have a round frame decorated with a frame cut out at the top of the glasses. Avant-garde.
Kuboraum Z3
Kuboraum Z3 round glasses in acetate and metal. Chiseled gold finish. Precious.
Kuboraum N5
In the super cool version in light yellow transparent acetate or in the more refined black matte version, Kuboraum N5 glasses are the evolution of a classic. The casual that you don't expect.