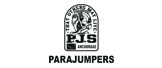 PARAJUMPERS (IT) at Lazzari Store
Parajumpers was born from an ispiring meeting with a member of the 210th Rescue Squadron in Anchorage, the jacket of this PJS was the origin for a collection of 'masterpieces' such as Gobi, Kodiak, Long Bear, Portland, Anchorage... In each season PJS evolves materials and models in its collection but the real mission is to create comfortable and functional clothing thanks by the union of creative power and productive experience of Parajumpers Italian headquarters based in Segusino (Treviso).
Showing 1-24 of 312 item(s)
PJS Masterpiece
PJS Masterpiece is the most iconic series of men's / women's jackets of the brand, unmistakable thanks to precise technical and design details: the yellow taped hook; the PJS patch on the left shoulder; orange seams on both shoulders; the numerous pockets and zippers, both external and internal. In 2018 PJS launched the PJS Masterpiece Base collection: jackets and bomber jackets without velcro and fur for an essential and contemporary urban style.
PJS Bomber
The classic model and must-have of the Masterpiece series is the Parajumpers Masterpiece Gobi bomber jacket: detachable fur-trimmed hood, multipockets, collar with parachute hook, elasticated cuffs and hem. Different models of PJS bomber are declined in the dual seasonal version AI/PE, male/female.
PJS Parka
Invented by the Inuit, parka coat was originally made of seal leather. The contemporary variants proposed by PJS are a perfect synthesis between Italian craftsmanship and technological evolution. Each PJS Parka model is ideal for both extreme sports enthusiasts and urban explorers. Knee length, comfortable hood, large side pockets, cargo pocket as useful as objects, iPad, mobile phone, maps,...
PJS Women's
To conquer life. To express the best of themselves even in the most difficult situations. To find the courage to face to live the daily challenges and the most extreme adventures. To resist. To protect. To test yourself to realize dreams, goals, possibilities. PJS Women's tells all this in a series of functional and design outerwear: Gobi, Long Bear, Mariah, Leah and many others.
PJS Men's
"May other people live!": PJS is inspired by the motto of 210 men from the Rescue Squadron of Alaska involved in saving lives in dangerous situations. PJS Men's offers reliable, sturdy and high performance technical jackets such as: Gobi, Nolan, Jeff, Right Hand, Musher, Shiki, Dillon, Takuji,... High-performance outerwear in any environmental and meteorological condition, in the middle of the most remote nature as well as in the frantic heart of a metropolis.
PJS Jackets
In Iceland it is customary to say: "There is no bad weather but only bad clothes". PJS jackets for men women are structured to guarantee warmth, protection, resistance even in extremely difficult natural or urban environments. PJS jackets like Sumi, Kodiak, Duluth, Arthur are not only technically innovative but particularly accurate in style: elegant, smart-casual or sporty-chic depending on the model.
PJS Coats
Long below the knee or up to the ankle, the PJS coats are warm, soft and durable. Padded with down, hooded, waterproof, colorful, they combine technical functionality with a sophisticated style. They are made to protect us and reassure us when temperatures fall, even several degrees below zero.