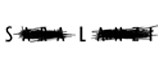 SARA LANZI (IT) at Lazzari Store
After its debut in Paris in 2004, the Italian fashion designer Sara Lanzi will begin a steady rise in the international fashion scene. Her collections are a fascinating balance between rigor and imperfection, from which shines always a delicate romanticism reminiscent of the past but that manages to adapt to the stylistic demands of the modern woman. His studies in the fine arts have greatly influenced his creations , so she creates simple garments , but innovative in the real forms and structures , both in texture and construction. To Sara Lanzi the fashion is an applied art form , then the mirror of contemporary reality .
Showing 1-16 of 16 item(s)
Sara Lanzi Clothing
Sara Lanzi collections are inspired above all by the fabrics chosen by the Italian designer rather than by current fashion. For Lanzi the fabric corresponds to a function. Hence the choice of fine fabrics from Italian manufacturers and a color palette that ranges from basic and classic colors to bright, full colors.
Sara Lanzi Dress
A Sara Lanzi dress is always sober, elegant, romantic. The fabrics that have made Sara Lanzi's dresses famous are cotton-blend lace with lurex and viscose mixed with knitwear. The minimal design has a vague vintage touch that enhances the fabrics used to make the clothes.