Trippen sandals: preview new season SS 2019
If you are already looking for new SS 2019 shoes trends but you do not want to go wrong, Trippen sandals will be the right choice. Fashions goes by, Trippen shoes never go out of fashion.
The new Spring 2019 shoes trends announce a new season of women's shoes with clean and minimal lines. But there are exceptions, such as the sharp and very long points of some models of décolleté. The soles will be mainly made of rubber for sneakers and sandals, which will show off essential silhouettes with thin straps or more complex and elaborate shapes. The colors will be full, in perfect color-block style: warm and bright hues will prevail, such as yellow, orange, red but there will be no lack of metallic proposals in shades of gold, silver and bronze.
In this context, the German brand Trippen fits perfectly while never chasing the dictates of seasonal fashions. Trippen has accustomed us to timeless and yet always fashionable shoes, we would say eternal. In fact, the high quality of Trippen shoes, from Trippen sandals to boots, we find in every single aspect. From the choice of materials, to the countless possibilities of personalized finishing, not to mention design, comfort, up to the low environmental impact of the entire Trippen production process.
Today we offer you three new models of Trippen SS 2019 shoes, in line with the new shoes trends for SS 2019 but, precisely and in their own way, against the trend. Trippen Artemis black or red sandals inspire comfort and minimal or casual-chic look. They are in vegetable tanned calfskin dyed and treated with a wax finish. The wide leather band on the back of the foot joins the Velcro closure strap to the ankle. The sole is in molded rubber. This well-defined design reveals oriental echoes that increase its appeal and personality.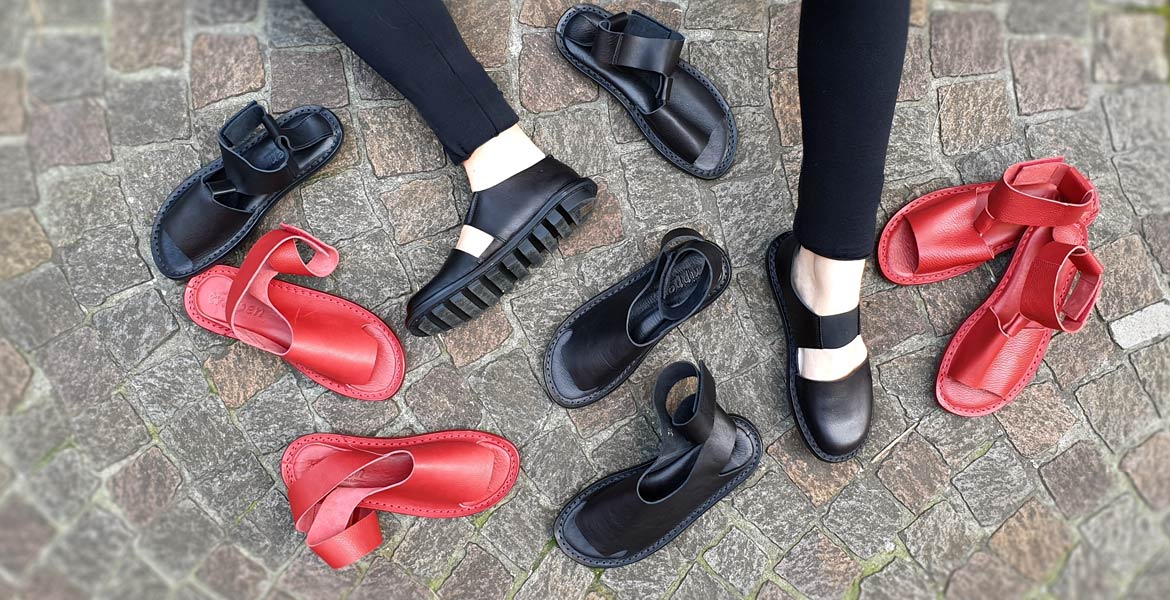 Trippen Innocent is instead a sandal closed at the tip and on the heel, in raw cut leather, with rubber sole. An elastic band wraps around the instep. Also in this case we are in perfect Trippen style, essential without being edgy, soft in shapes and materials, casual or refined depending on the chosen outfit.
Trippen Hug red or black sandals comfortably skirt the back of the feet. Heel and toe, with angles cut around little finger and thumb, remain uncovered. They close with a strap around the ankle. Like Trippen Artemis sandals, Trippen Hugs also place their feet in a comfortable, wide plant with a serrated rubber sole.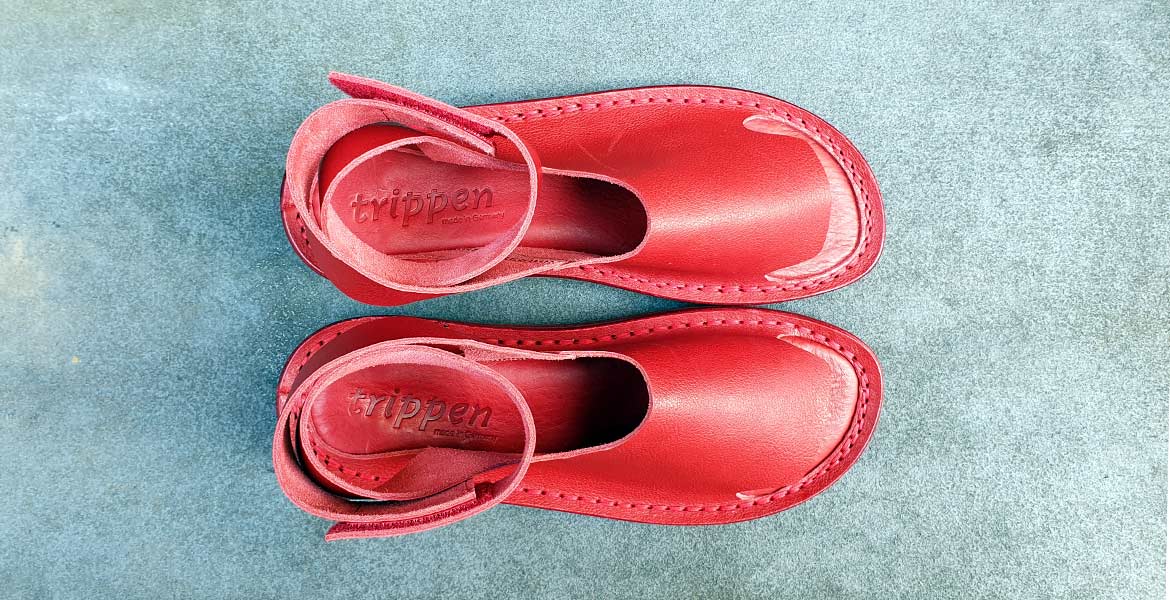 Trippen sandals and, more generally, Trippen shoes stand out in the crowded universe of women's shoes primarily thanks to their iconic shapes, from the most minimal to the more experimental ones. But wearing Trippen shoes also means knowing how to choose what to wear. Trippen can boast high standards of social responsibility towards its employees. Trippen has a green spirit: the Trippen production cycle sandals, boots, ballerinas, etc. it is ecological. Heels and woods for heels are vegetable tanned, the suppliers of raw materials are only European (checked and certified therefore), the production processes have low carbon dioxide emissions.
When we say that Trippen sandals will always be fashionable because we consider these aspects as eternal, the company in its entirety and complexity, its mission and its identity. Take for example the choice of working the leather by adopting the vegetable tanning technique. It is a slow process of processing that leads to raw leather becoming leather. To do so, tannins of natural origin are used.
The tannin makes the leather of the shoes unique because it allows it to memorize, day after day, the experience of the wearer. Vegetable-tanned shoes age but do not get damaged. Moreover, with the passage of time, the colors will tend to heat up giving the footwear a refined charm. The vegetable tanning then makes it possible to produce shoes that are non-toxic and hypoallergenic, free of azo dyes, nickel, chromium, pentachlorophenol. In short, if you are already looking for new SS 2019 shoes trends but you do not want to go wrong, Trippen sandals will be the right choice. Fashions goes by, Trippen shoes never go out of fashion.
Comments
Leave your comment
* Required field