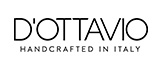 D'OTTAVIO HANDCRAFTED IN ITALY (IT) at Lazzari Store
D'Ottavio leather bags aren't just items of an Italian brand, but the result of a project born in Padua in 2018 from the long time and international experience of the D'Ottavio family in handcrafting leather accessories. It's the fruit of decades of research and experimentation, which has brought to a complete evolution in the leather bags making process. Strengthened by a stylistic and technical background of rare heterogeneity, D'Ottavio's philosophy focuses on high-end designed products between and refinement and functionality.
With an unconventional and timeless stylistic line, D'Ottavio's creations combine an accurate choice of the materials with careful craftwork, in order to bring practicality, quality and design together.
Three iconic items that fully represent D'Ottavio are the handbag E48, the shoulder bag E47 and the weekend bag E70.
Each name has the letter E for Everyday, as they are meant to be multipurpose for any daily occurrence, followed by the number of total components that make the bag. It's a way to communicate the amount of work and creative thought in making every single one of D'Ottavio luxurious products.
Showing 1-24 of 38 item(s)