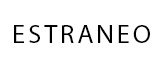 ESTRANEO (IT) at Lazzari Store
Estraneo means stranger. It's a new line of Italian perfumes with original aphrodisiac unisex fragrances.
Estraneo: the perfect perfumes for a gift
It is a collection of perfumes able to give a pleasant sensorial experience. They have an aphrodisiac and passional aroma and they present a simple and elegant packaging that makes them a perfect gift for different circumstances.