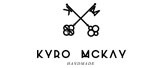 KIRO MCKAY (IT) at Lazzari Store
Kyro Mckay is a young and enterprising Italian eyewear company founded as a start-up in 2017. In partnership with historic producers in the sector, it has launched its own eponymous brand on national and international markets. The company boasts an internal research and development department, independently selects high-quality materials and transforms them into vintage glasses of craftsmanship. Positioned in the world of retro luxury fashion, Kyro Mckay offers five models of glasses, each with its own style and called like an international airport: El Dorado, with an exuberant style; Lax, classic and refined; Narita, with a touch of glamour; Changi, for those who love urban style; Luxembourg, whimsical and captivating.
Showing 1-10 of 10 item(s)
Kyro Mckay Sunglasses
The young Italian eyewear brand Kyro McKay was born in 2016 to give life to an ambitious project: to create sunglasses that combine East and West, completely handcrafted and 100% Made in Italy. The East is represented by the Chinese giant, with its history and its millenary traditions, its charm and its rigor. The West from Hollywood, from sports champions and icons of pop, rock and rap music, urban style and US megalopolises. The result is vintage Italian luxury sunglasses.
Kyro Mckay Vintage Sunglasses
Kyro Mckay glasses are fruit of technological research and careful selection of precious materials, but their style is decidedly vintage, however modern and captivating. Quality and authenticity of Kyro Mckay sunglasses is guaranteed by a quality seal and a unique anti-counterfeit serial code.