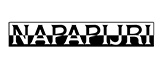 NAPAPIJRI at Lazzari Store
The Napapijri's story begins in 1967, at the foot of the Mont Blanc, in Valle d'Aosta, Italy. A travel bag manufacturer imagines outdoor apparel inspired by the great exploration expeditions of the twentieth century, in particular the discovery of the poles and the encounter with local populations such as the Eskimos. Representatives of the Napapijiri philosophy are the Skidoo and Rainforest parkas, which have become iconic models of the brand. The link with the most extreme lands of the planet and with the wisdom of those who live there, its respect for the environment and humanity, are the strengths of a company constantly projected into the future. Just think of the most recent collections designed and produced in the name of eco-sustainability: Ze-Knit, Superlight and Infinity.
For the Ze-Knit collection click here.