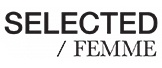 SELECTED FEMME (DK) at Lazzari Store
SELECTED FEMME is the female version of the Danish brand SELECTED, which stands out for its clothing made with style and tailoring but at competitive prices. SELECTED FEMME expresses a casual and urban design with touches of romanticism, designed for contemporary women, practical and sophisticated at the same time. There is no SELECTED FEMME collection that does not find a place in every woman's wardrobe: in fact, the details of each garment will make the difference, integrating with the individual style of the wearer. The objective of SELECTED FEMME and, more generally, of the SELECTED brand is: to combine quality (rather than quantity) and cheap prices with sustainability, creating collections with an increasingly lower environmental impact.
Selected Femme Women's dresses
Selected Femme women's dresses: romantic or minimalist, gritty or elegant, Selected Femme dresses respond to the style needs of the most diverse women or of the same woman but on different occasions of their day. Colorful, printed, monochromatic dresses made with increasingly sustainable fabrics. Long, midi or short dresses, Selected Femme dresses are inspired by the dreams and desires of women. They are the kind of clothes that make you feel good, that you want to wear every day. Beautiful and comfortable clothes to live in and not just to admire.
Selected Femme Women's shirts
Selected Femme women's shirts and blouses range from bon-ton to sporty, casual, romantic, elegant. Depending on the time of day and the occasion of use, based on the chosen combinations and outfits, Selected Homme shirts and blouses blend perfectly with any situation, with taste, refinement and character. Colored, striped, floral, in Sangallo cotton or recycled materials: Selected Homme shirts express the personality of the wearer in all its nuances.
Selected Femme Women's trousers
Selected Femme women's trousers can be grouped into 4 macro categories:
- Selected Femme Relaxed Fit trousers: wide-leg women's trousers, long below the ankle and with elasticated waist.
- Selected Femme Wide Fit Trousers: wide women's trousers, comfortable to wear, with a medium-high waist.
- Selected Femme Tapered Fit Trousers: trousers tight at the bottom, short at the ankle and with a medium waist.
- Selected Femme Slim Fit Trousers: trousers with a narrow cut, leave the ankles uncovered and have a medium waist.
Striped, checked, solid color, printed, in leather… Selected Femme trousers stand out for their design and colors, both in the summer and autumn-winter collections. There is no shortage of leggings, joggings, sweatpants and chinos, elegant trousers for special occasions and for everyday life.